Preston Ford Inc.; Your Burton, OH Routine Service and Automotive Maintenance Center
We're your Ford parts connection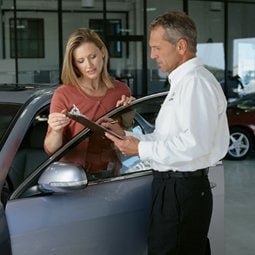 We have all been in the situation where something about our vehicle doesn't seem to be working right. Whether it's a squeak, clank, or vibration it can be a scary situation when your vehicle appears to be acting up. That's why you need a team of certified automotive technicians at your side! Here at Preston Ford Inc. serving Northeast Ohio... our factory trained and certified service specialists can handle your biggest car troubles and routine maintenance for you. Whether you're in need of an oil change or an alignment, our team is ready to get you back on the roads quickly! Visit our dealership for your crucial automotive needs or on your routine maintenance schedule, and you'll drive confidently.
Common Service Needs
Oil Change
Keeping your vehicle on a regular oil change schedule helps ensure vehicle performance and longevity. Engine oil keeps your engine well lubricated to help dissipate heat and reduce wear on engine components. It is recommended that your vehicle gets an oil change every 3,000-5,000 miles depending on make and model.
Tire Rotation
The tread of your tires wears different depending on many factors including whether your vehicle is front-wheel or rear-wheel drive. Rotating your tires ensures that you get the most out of your tires by regulating wear across all four wheels.
Brakes
Brakes are one of the most important parts of your vehicle ensuring that you can stop quickly at moderate speeds. If you notice your vehicle pulsate, steering wheel shutter, or hear squealing while braking, you need to have a certified technician examine your brakes to ensure your safety.
Schedule a Service Appointment Today!
If you're ready to ensure your vehicle gets the attention it needs to perform at its best, visit our service center in Burton, OH. You can even schedule your next service appointment online and save time at the dealership. We look forward to helping you with all your automotive needs right here at Preston Ford Inc.!